COMTECH offers a variety of water cleaning and filter products.
We have specialised in supplying water filter, water purifier, water filtration, and Reverse Osmosis System.
home >
About Us
|
COMTECH WATER SYSTEM CORP.
The core values of our company do not only include supplying durable and solid products,but also offering good service and professional advice for our esteemed clients. The quality policy is the most important foundation of our company, as well as in maintaining and developing business worldwide.
is "co" collaboration,people work together toward a common goal.
is "co" infinity or boundlessness, the pure & fresh drinking water can be found anything and anywhere.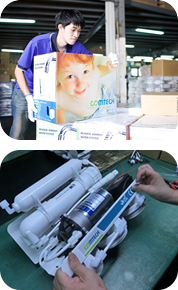 COMTECH WATER SYSTEM CORPORATION
was founded in 1999 by professionals who have many years' experience in the Reverse Osmosis field. Research and development is done every year. Our innovative and unique new products are patented and approved by well-known certifications(eq. CE IEC.) Thanks to our stunning product features, quality assurance and guaranteed workmanship, we have gained a good reputation in both overseas and domestic markets.
COMTECH is committed to the improvement of drinking water quality and the creation of a healthy environment with determined mindset, from decision-making to execution, by our united teamwork. By doing this, we are attaining higher goals;

step by step, year by year. As presented in our logo "
",through our collaboration, we hope everyone is able to enjoy the pure, fresh drinking water anywhere an anything on this planet.
Products List
water filters, water dispenser, reverse osmosis water system, water filter system, aqua,ro water system, water purifier, water filtration, water system, mineral water system, drinking water system, reverse osmosis, ro membrane, pure water system.
COMTECH WATER SYSTEM CORPORATION